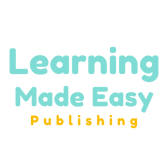 Handwriting Activity Workbook
Get ahead with a solid foundation
The Handwriting Activity Workbook will start your child off on the right foot and prepare them for the most important years of their lives. Kids will improve penmanship, alphabet knowledge, math skills, and early reading skills, all while inspiring creativity and having a blast!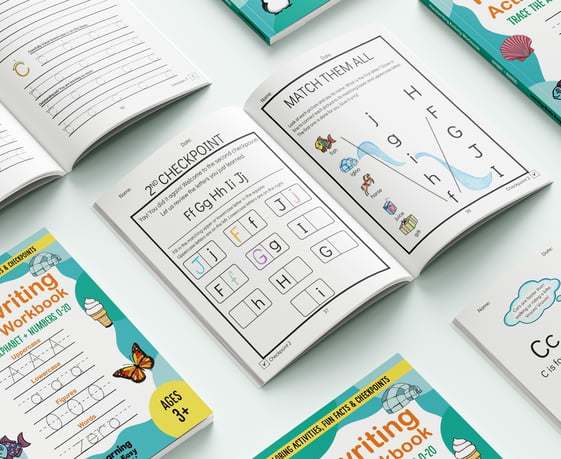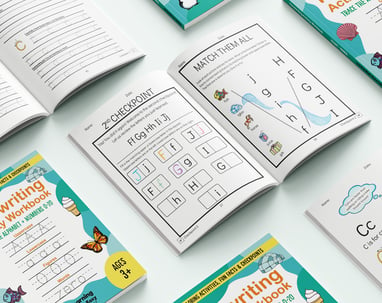 Penmanship
Our resources help kids develop the strength, coordination, and control necessary to make writing easy and natural
Alphabet Knowledge
We gradually introduce kids to letters and their sounds, planting the seeds for stronger reading skills
Mathematics
Learn to recognize and understand the basic concepts of math—such as numbers, their values, formation, and order
Creativity + Imagination
We encourage curiosity and nurture creativity by offering children opportunities to think critically, explore new ideas, and cultivate problem-solving skills
Develop and learn through fun and creativity
175+ activity pages packed with fun puzzles and games that will improve handwriting and prepare kids for reading and math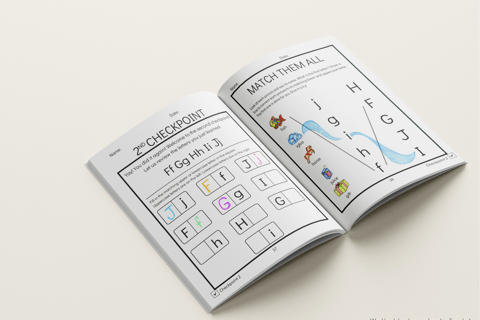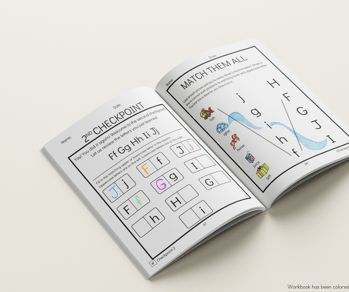 Great for all skill levels
3x the practice space + step-by-step instructions
Huge pictures
for coloring
Perfect for young artists to bring to life
Special sections to evaluate understanding
AT A GLANCE
Learning Outcomes
Your child will learn to:
Use a pencil/crayon with maximum control

Recognize and write all letters of the alphabet, both uppercase and lowercase*

Understand alphabetical order*

Write their first and last names using upper and lowercase letters

Develop early letter-sound relationships*

Develop a basic vocabulary set*
Recognize and name colors

Count and print numbers from 0 - 20*

Spell numbers zero to twenty *

Use one-to-one correspondence (assign one number to each object as they count)*

Match numbers to groups of objects *

Compare numerical value *

*pre-reading skill *early math skill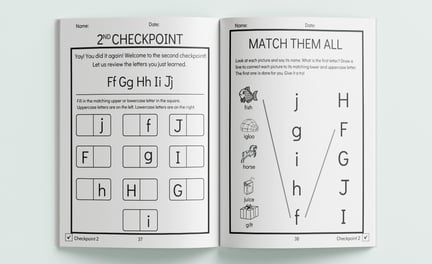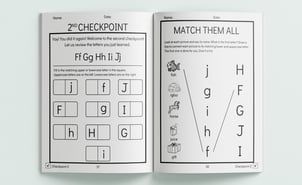 Kid-friendly Lesson Structure
The Handwriting Activity Workbook is organized into 9 short, simple lessons to help kids progress through the material at their own pace.
BONUS: Check how your kids are progressing in real-time! At the end of each lesson, "Review Checkpoint" pages challenge kids to review the concepts and apply what they learned through fun activities.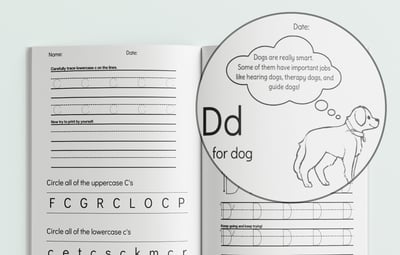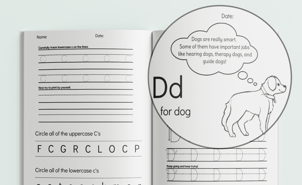 Entertainment for hours
Our workbook is full of fun facts, discovery questions, puzzles, and activities designed to stir young minds into action while they learn! It also gives young artists room to let their imaginations run wild by decorating and coloring in the pages.
BONUS: Don't we all need uplifting from time to time? Short messages of encouragement are spread throughout the workbook to motivate young learners when things might get tricky.
HEAR WHAT
PARENTS
+
TEACHERS
+
FAMILY
HAVE TO SAY
"My son literally learned how to write in less than 2 weeks, somehow unaided! He was struggling with curves, but now he has really improved. It was so easy for him to trace the figures in the Handwriting Activity Workbook!"
Pearl O. (Mom and Social Media Blogger)
"It is a fantastic resource! The book is very well organized, and the layout is neat and easy to understand. The fun facts and positive encouragement are nice additions. I look forward to using this book with my class and my own daughters as well!"
Nicole R. (Mom and Kindergarten Teacher)
"The quality of this workbook is really nice. It's thicker than I expected but offers a lot of practice for writing. One thing I like is the variations, some pages are just practice, others are puzzles and problem-solving. Overall this is a phenomenal book, we'll be expanding and getting other workbooks from Learning Made Easy for sure!"
Jeremy H. (Dad and Homeschool Teacher)
"My husband is big on re-enforcing what the kids learn at school in our home, and this workbook was a great tool to help facilitate their learning! Would definitely recommend it to early learners, educators and parents alike!"
Yvonne (Mom)
"Bought a couple of workbooks for my nieces aged 4-6 and they loved them! I noticed that their handwriting improved as they got deeper into the workbook."
Lena E. (Aunt)
"My 4-year-old totally loves working from this book because it literally makes learning easy."
Latoya S. (Mom and Special Needs Educator)
"This workbook is amazing it has so many different things that a child can learn. It's a huge book which was really nice, and there's a lot of homework for the kids to do. For an amazing price, I will definitely be buying more!"
Stephanie M. (Daughter of a Daycare Educator)
"I love the imagery, the little bits of encouragement, and fun facts! I plan to buy more books for all the little ones I know!"
Kayla M. (Aunt)